This is a Sponsored post written by me on behalf of ZzzQuil for SocialSpark. All opinions are 100% mine.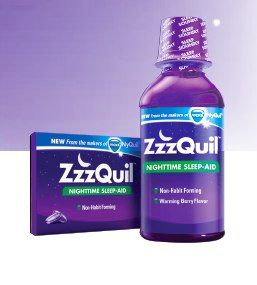 Do you ever have a hard time falling asleep or staying asleep? There are some nights that I have so many things going through my mind that I have a hard time falling asleep. Thankfully, for me, it is not a problem all the time. My husband has to take a sleeping pill every night.
I was recently given the opportunity to try ZzzQuil - from the makers of NyQuil. I think they made this stuff just for me because I am bad for taking NyQuil to fall asleep some nights. Thank goodness I don't have to do that any more. I now can take ZzzQuil and get a good night's sleep without taking other medications that I don't need. Check out the product overview:
 ZzzQuil is brought to you by the makers of Vicks NyQuil, for when your only symptom is occasional sleeplessness. It's not for colds, it's not for pain, it's just for sleep.
 ZzzQuil's active ingredient, diphenhydramine HCI, helps reduce the time it takes for you to fall asleep when you have difficulty falling asleep, so you can sleep soundly and wake up refreshed.
 ZzzQuil is the only over-the-counter sleep-aid medication available in both Liquid (Warming Berry flavor) and LiquiCap® forms.
 ZzzQuil is a sleep-aid product that delivers the effective relief that consumers have come to expect from Vicks products.
 ZzzQuil is intended for adults and children 12 years of age and older. It is non-habit forming as well as safe and effective when used according to package directions. More information about ZzzQuil is available at www.zzzquil.com
I tried the liquid, it has a very good taste and I had not problem taking it. I tried this out on the night that we came home from a very long trip. My husband's grandfather passed away, so we had an 8-9 hour trip both ways. Of course, we came home on Sunday night and had to be back at work on Monday morning so my mind would not settle down. I was glad my ZzzQuil had come in so I could try it out. I fell asleep really fast and never even woke up to use the bathroom - I usually have to get up at least once a night - so I slept wonderfully!! I did not move until my alarm went off and I was sleeping so good then that it almost scared me.
The next night I had my husband try it out. Like I said, he takes a sleeping pill every night and then still it may take him several hours to fall asleep and he don't sleep well. With the ZzzQuil, he told me he slept better than he has slept in a while. He did not have a problem falling asleep and slept all night. I don't think he even snored that night, plus for me!
I encourage you, if you have any problems sleeping to try out ZzzQuil. You will love it just like we did!
Connect with ZzzQuil on their facebook page https://www.facebook.com/#!/ZzzQuil?fref=ts and on twitter https://twitter.com/ZzzQuil.  If you try ZzzQuil, be sure to post your results on their facebook page and twitter - use the hashtag #ZzzQuilNight. And of course, leave me a comment and let me know your thoughts as well.